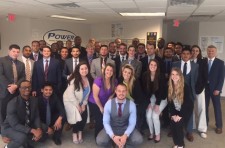 ATLANTA, June 30, 2017 (Newswire.com) - Peak Enterprises Corp's President announced that the firm has won Atlanta's Best and Brightest to Work For award for 2017. The award is given by the National Association for Business Resources based on positive employee surveys.
"There has been a lot of excitement around the Peak Enterprises Corp office as of late, and this award from the National Association for Business Resources [NABR] has served to remind us why things are going so well," shared the firm's President. "We're succeeding because we have a great team of professionals who feel supported and empowered by working here."
The NABR was established in 1996 as a service organization dedicated to giving companies the data, best practices, and tools that would provide a real financial payoff and make a difference in performance metrics. Through their efforts to improve companies, they are increasing workplace satisfaction and the communities in which these businesses operate.
Peak Enterprises Corp won the Best and Brightest to Work For award for the Atlanta area, in recognition of the number of positive associate surveys that were filled out and submitted to the NABR. With this tangible recognition of the firm's excellent corporate culture, the firm's President is certain that even more talented professionals will be seeking to join the company roster.
How Awards Help Peak Enterprises Corp Achieve Growth Goals
"In an increasingly competitive landscape, businesses don't have the luxury of doing the same thing year after year. They have to grow just to stay relevant," declared Peak Enterprises Corp's President. "We accomplish this by setting goals in several different areas of our operations, ranging from sales and revenue, to associates promoted into leadership roles, and overall team growth."
By earning the Best and Brightest to Work For award, Peak Enterprises Corp's team has set itself apart from others in the area. Savvy young professionals know that the difference between a job and a career often comes down to culture, and whether a company's leadership prioritizes workplace satisfaction and associate development. Being recognized by the NABR provides proof that Peak Enterprises Corp is an organization to which they can commit.
"Of course, what I find really humbling about this award is that we won it through positive feedback from our team. To everyone who filled out a survey, I just want to say, 'Thank you!' I appreciate each and every one of my colleagues, and I will continue to create the kind of environment in which they enjoy working and succeeding."
About Peak Enterprises Corp:
Peak Enterprises Corp is the premier consulting and marketing services provider for the telecommunications industry. By applying in-depth market analysis and demographic research, their team of branding specialists infuses each interactive promotional campaign with a customized feel that is precisely targeted. This approach leads to meaningful connections between companies and their ideal customers to drive rapid market saturation. By forming these connections, Peak Enterprises Corp has built a reputation as an industry leader while providing a high return on investment for a diverse portfolio of clients. Whether working with a small local startup or an international corporation, Peak Enterprises Corp delivers consistent boosts to bottom lines and brand awareness. Check us out at http://peakenterprisescorp.com/.
Source: Peak Enterprises Corp.
Share: