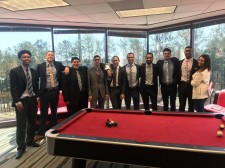 ATLANTA, July 20, 2018 (Newswire.com) - The President of Peak Enterprises Corp stated, "It is a true honor to be considered among the firms that are deemed best and brightest. This recognition is a tribute to our team and reflects our company's philosophy of giving back to the community and helping each other realize our own visions of success."
He noted that to qualify as a best and brightest firm, certain criteria must be met: "Their motto is Better Business. Richer Lives. Stronger Communities. To receive special recognition, companies like Peak Enterprises Corp must epitomize these values through their actions. As they note on their website: 'Determination, exceptional leadership, and daily ingenuity are three of the key components to any successful organization.' We strive to create an environment that echoes this mission."
The Best and Brightest program includes tailored education, evaluation, and execution as per the participants' needs. "The more our company participates in this program, the more we can benefit from the resources they offer," the President added. "It's working well for us thus far."
Peak Enterprises Corp's President on How the Firm Meets Best and Brightest Workplace Criteria
The President suggested that Peak Enterprises Corp's culture aligns perfectly with the Best and Brightest values. "Better business starts with how our team provides top-level consulting and marketing services to our national service partners," he said. "We aim higher to exceed goals and add value in all that we do, from creating exceptional outreach campaigns, to educating customers on telecom services, to ensuring satisfaction across the board."
"Our approach to professional development underscores how we're building richer lives," he continued. "We provide our people with the tools they need to excel on the job and grow in their careers. By promoting from within, they know they have a future with us if they work hard."
The team's ongoing efforts to give back to the Atlanta region lead to the final branch – stronger communities. "We work together to support a variety of causes in our area," the President shared. "We get involved in projects that mean something to our people, such as helping those in need. Each effort brings us closer together, which adds energy and fun to our workplace."
Visit http://thebestandbrightest.com/companies/peak-enterprises-corp/ for more information on this award.
About Peak Enterprises Corp
Peak Enterprises Corp is the premier consulting and marketing services provider for the telecommunications industry. By applying in-depth market analysis and demographic research, their team of branding specialists infuses each interactive promotional campaign with a customized feel that is precisely targeted. This approach leads to meaningful connections between companies and their ideal customers to drive rapid market saturation. By forming these connections, Peak Enterprises Corp has built a reputation as an industry leader while providing a high return on investment for a diverse portfolio of clients. Whether working with a small local startup or an international corporation, Peak Enterprises Corp delivers consistent boosts to bottom lines and brand awareness. Check us out at http://peakenterprisescorp.com.
Source: Peak Enterprises Corp
Share: